English
IT'S TIME TO SHOW YOURSELF
JOIN SCOUTIUM NOW IN ORDER TO GET DISCOVERED BY CLUBS FROM ALL AROUND THE WORLD!
Get Ready To Be Discovered!
Scoutium makes you visible to clubs by providing your match videos & robust scout analyses of your performances.
Boost Your Development!
Scoutium helps you to reach your full potential by providing relevant training and nutrition plans for you.
Be a Part of the Football Ecosystem!
Scoutium offers you a unique world consisting of dozens of football players, club authorities, managers, and scouts.
Clubs Waiting to Discover You
Only 3 Steps to Get Discovered
Register!
Register as a Licensed Footballer.
This is the first step for you to be discovered. Register now for the Scoutium that consists of your detailed match analyses, specialized training and nutrition programs, even the standings, fixtures and stats of lower leagues.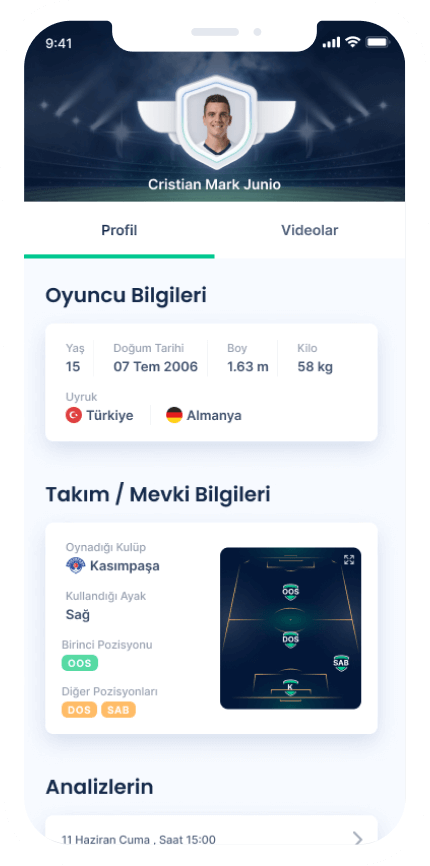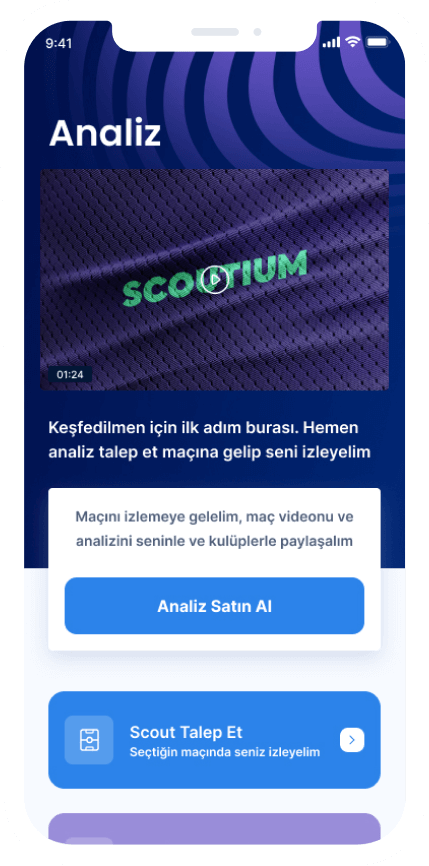 Be Analysed
Let's Come To Your Match And Evaluate Your Performance.
After your registration, you can watch your specialized summary of your match videos, examine your scout analyses, and invite our video experts to your upcoming matches in order to be analysed by our professional scouts.
Be Discovered
And Share Your Match Analysis With You & Football Clubs
Now that you have your match analysis with significant data, you're ready to be discovered! Thanks to your analysis, you'll have the chance to develop your skills and to be discovered by clubs all around the world. Bonus: Once a club examines your analysis, you'll have a notification.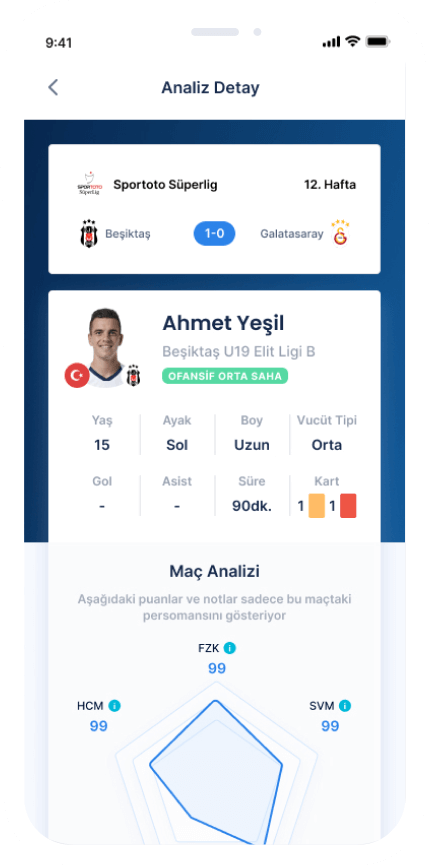 Frequently Asked Questions
Are Only Licensed Football Players Accepted?

How Can I Download the Application?

How Can I Call a Scout to My Match?